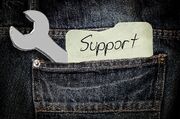 Overview
This page contains links to frequently found and known issues.
Make sure your computer meet the System Requirements and that you have the latest video card drivers and the latest DirectX drivers. For more instructions, please see the Video Cards page.
Needed information for issue resolving
When contacting support, we need you to send us the correct files needed to resolve your issue. Note that if all else fails, please try a reinstall before contacting support.
Technical Issues
Payment & Membership Issues
Please contact Support directly. Please include any receipts or proof of purchase that you might have along with exact details of your issue.
Related Topics
Ad blocker interference detected!
Wikia is a free-to-use site that makes money from advertising. We have a modified experience for viewers using ad blockers

Wikia is not accessible if you've made further modifications. Remove the custom ad blocker rule(s) and the page will load as expected.