Available Reserves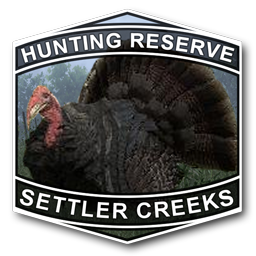 Reserve inspired by: "Feels a little bit like a combination of Logger's Point and Whitehart Island" quote Stefan Pettersson

This area was released on the 13th of December 2010. It consists of farmland in the valleys and more rugged, forested areas in the mountains. Many abandoned barns are found in the farmland areas.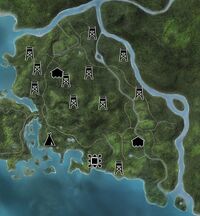 Huntable Species
Lodges
Highland Lodge: Start your hunt from the Highland Lodge and enjoy some of the best views in the Evergreen Hunting Reserve. Elk and Turkey can be found uphill while Feral Hog and Whitetail roam the fields below.
Homestead Lodge: The Homestead Lodge is a converted old farm surrounded by abandoned fields and small patches of birch. Old buildings and improvised towers provide excellent ambush opportunities for agile hunters.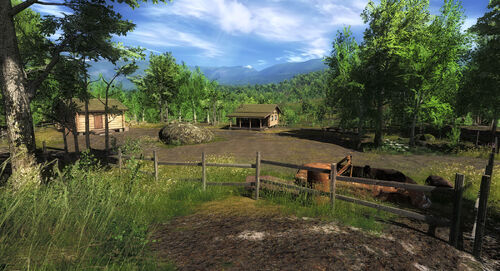 Tower Locations
Travel Missions
Monica here. Remember that time I had an "All you can eat Mule Deer week"? Well this time I got into something way worse. A competitor is about to open up and he is promising all kinds of meat from Hirschfelden. I need to be one step ahead so I'm gonna offer my customers every type of meat from Settler Creeks along with a map awareness competitions on a day to day basis. Think you can help me out with all this?
Gallery
Images from Settler Creeks submitted by our Settler Creeks Screenshot Competition winners.
Videos
Animal Map
This is a community made map and is based on players' experience in the game. It is and simple attempt to display where animals spawn in this reserve, and NOT where you might find them during a hunting session. The map shows where you can expect to find the animals in maybe 80% of your hunts right after you start the game. The animals can also appear in other places, but they will with less frequency.
The animals are shown on the map in clusters. This approach does not do the game perfect justice, but the map becomes easy to understand. Imagine a circle around each animal icon and you will get an idea about their predominant spawning locations.
Ad blocker interference detected!
Wikia is a free-to-use site that makes money from advertising. We have a modified experience for viewers using ad blockers

Wikia is not accessible if you've made further modifications. Remove the custom ad blocker rule(s) and the page will load as expected.