Description
The Rocky Mountain elk is a subspecies of elk found in the Rocky Mountains and adjacent ranges of Western North America. The winter ranges are most common in open forests and floodplain marshes in the lower elevations. In the summer it migrates to the subalpine forests and alpine basins. The total wild population is about one million individuals. All Rocky Mountain elk in Washington State are the result of reintroductions conducted in the early 1900s from Yellowstone elk herds. These initial reintroductions have expanded their range and have also been translocated within the State.
Source: Wikipedia.org
Habitats
Attractants
Rocky Mountain Elk Missions
Howdy, the name's Buck Williams, I'm the local sheriff here on the trails. I've noticed an explosion in trophy Rocky Mountain elk here which sure are bringing in the poachers and which aren't making the local, law-abiding hunters very happy. To stop this problem at the starting point, we must start killin' and recordin' everything about these elk and slow their antler growth or we will have a big ol' poacher reunion. This mission pack was created by community member Dillakiller.
Video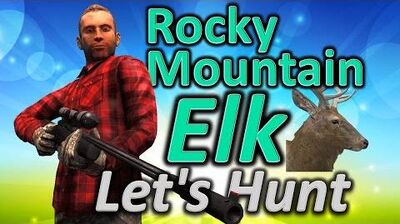 Permitted Ammunition

Arrows


.50 Ball


.50 Con.


.45-70


.340


.300


9.3x62


7mm


30R


8x57 IS


.303


.308


.30-06


.30-06


7.62x54


.454


.45


.44


10mm


10ga Slug


12ga Slug
See full list here.
Ad blocker interference detected!
Wikia is a free-to-use site that makes money from advertising. We have a modified experience for viewers using ad blockers

Wikia is not accessible if you've made further modifications. Remove the custom ad blocker rule(s) and the page will load as expected.