Hunter Score
Definition: The Hunter Score is the sum of all rank points that you have collected throughout your entire time in the game.
The Hunter Score is the number displayed on the right of your avatar in your profile. The scores of all players in the game are compared. They define your position among all players which is also displayed..


The Hunter Score has nothing to do with the factors below
scores of the animals you harvest
the quality of your shots
Missions you have completed
competition results
Achievements - these made up the HS up to March 9, 2017 but not now
Ranks
Ranks count towards your Hunter Score and come in three categories. These categories are Animals, Weapons and Collectables.
Animals
Every animal has its own rank.
Weapons
All unique weapons have their own ranks. Weapon variations, such as the different Plinkingtons, are grouped together and harvests with any of the three of them will count towards the same Rank. Weapons are grouped in the same as the Shooting Skills.
Example:
The ".22 Plinkington" comes in three color variations, Marble, Winter Camo and Wood. All of these count towards the same Rank and no matter which gun a player uses, all kills count towards the one Plinkington Rank which in turn counts towards the Hunter Rank.
What it looked like in the old system:
.22 Plinkington Marble: 100 kills
.22 Plinkington Winter Camo: 50 kills
.22 Plinkington Wood: 50 kills
Now looks like
.22 Plinkington: 200 kills
Collectables
Collectables have three Ranks:
Common mushrooms
Rare mushrooms
Treasures
Each kill per Rank adds you one Hunter Score point. All Ranks are limited to a maximum of 1000 points.
Ranks Overview
Your Ranks page shows your progress in the different areas. Move your mouse over the progress bars to see the numbers behind them.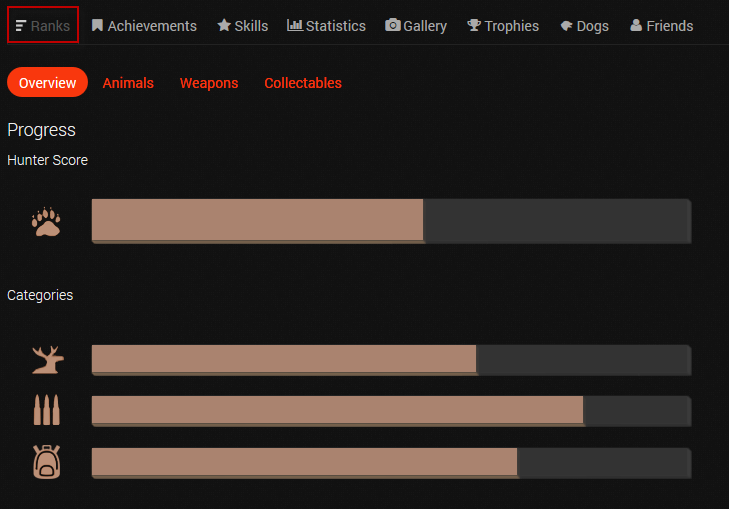 Select Animals, Weapons and Collectables to see how you have completed the ranks for each of these categories.
Rank Badges
All ranks have their own badges and look like this.