Description
The grizzly bear less commonly called the silvertip bear, is any North American morphological form or subspecies of brown bear, including the mainland grizzly, Kodiak bear, Peninsular grizzly, and the recently extinct California grizzly and Mexican grizzly bear. Scientists do not use the name grizzly bear but call it the North American brown bear. It should not be confused with the black grizzly or which is another giant brown bear inhabiting Russia, Northern China, and Korea.
Source: Wikipedia.org
Habitats
Attractants
There are no attractants for the Grizzly Bear.
Video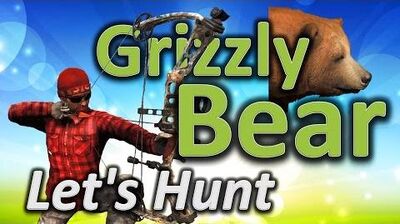 Permitted Ammunition

Arrows


.50 Ball


.50 Con.


.45-70


.340


.300


9.3x62


7mm


8x57 IS


.303


.308


.30-06


.30-06


7.62x54


.454


.45


Slug
See full list here.
Ad blocker interference detected!
Wikia is a free-to-use site that makes money from advertising. We have a modified experience for viewers using ad blockers

Wikia is not accessible if you've made further modifications. Remove the custom ad blocker rule(s) and the page will load as expected.