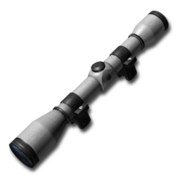 Description
High performance rifle scope with fully coated lenses and up to x9 zoom. An ultra rugged construction and matte black finish means it can withstand the toughest trips into the high country.
Weapons
Capacity
0.50 units*
Screenshots
Ad blocker interference detected!
Wikia is a free-to-use site that makes money from advertising. We have a modified experience for viewers using ad blockers

Wikia is not accessible if you've made further modifications. Remove the custom ad blocker rule(s) and the page will load as expected.